Bad Ass Brother
Check Me Out!
World Famous (not only) In New Zealand!
Maddie, the BadAss Queen over at BadAss Quilters Society asked me to write a review for my Sewing Machine. Today she has posted it up on her website for all to see.... (Eeek!)
Anyways, Please go visit her website to have a read .. Click on the Bad Ass image below,
Give her (and me!) a shout out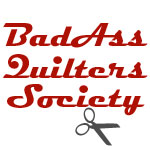 Here's to many more reviews in the future.. It was crazy hard, but really fun and rewarding
Take care, enjoy the rest of the week, bring on the weekend!